Saturday, December 23, 2006
08:55 PM
ho
ho
ho
Omakase linkdump: Merry Craftsmas: "Xeni Jardin: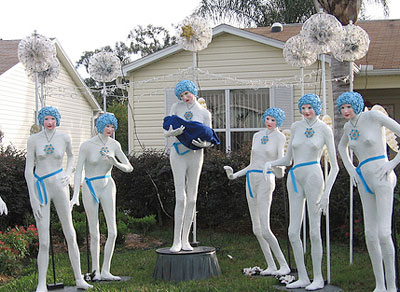 A roundup of festive crap sent in to BoingBoing by you, dear readers:

• Evil Christmas Carols (audio). How beautiful! With 'sinister' key changes to minor, they sound menacing, like soundtracks to silent movies about damsels in distress on Christmas eve.


• Weird nativity in FL retirement community, above (WTF? Raelians?)


• Top 10 DIY Christmas trees


• $600 upside-down Christmas tree

• Flickr pool: your strangest holiday ornament

• Roombas singing Christmas carols (video)

• Rankin-Bass Santa + Rudolph rescued (previous BB post)

• Ultraviolent Star Trek holiday office diorama

• Baby Jesus kidnapped, returns with snapshots

• A Very Cthulhu Christmas (audio)

• sf-themed holiday story collection (+ 2, 3, 4, 5)

• 101 Classic Christmas Videos

• Gingerbread Katmari Damacy (above)

• Video: horribly Bad Star Wars Christmas: part 1, part 2

• Iranian political asylum applicant mom jailed in NC after applying for permit to sell street art (BB reader Pembdasi, who submitted this item, says, 'I am her half-brother. I just found out about this today, the day before Christmas Eve. Merry Christmas I suppose.')


• Silent choir sings 'Silent Night' in sign language

• Retro ads: shopping mall Santas arriving by copter, parachute

• Boymongoose: 12 days of Christmas, Indian-style (video). Re-blogged by popular demand -- everyone I've showed this to in person squeals, then emails it to 20 people. About: Link, and you can buy the boy-band's 'Christmas in Asia Minor' album online, in CD or download form: Link. Includes such classic carol faves as 'Hark the Herald, Angel Singh,' and 'We Are Wishing You A Merry Christmas.'





(Thanks and happy hols, Huw Bowen, Rob Nachbar, Mark Vadnais, John/Disney Blog, Scott, Wil, Justin, Human, Mark Wu, Tay, Tobias, and Santa's Helper!)

"
(Via Boing Boing.)