Thursday, January 11, 2007
09:32 PM
we found this amusing
Cisco vs. Apple: lawsuit over The Jesus Phone. Plus: Zunephone.: "Xeni Jardin:


Image: Ben Pieratt shares this papercraft model to comfort those who jones for June.

Cisco Systems today announced a lawsuit against Apple, accusing the company of infringing its iPhone trademark. When Apple CEO Steve Jobs unveiled the device yesterday at MacWorld, much gadget-wood sprang throughout the land. The name's already a moot point, anyway: in December, Mac fanboy and Gizmodo editor Brian Lam dubbed it The Jesus Phone ('j-phone' for short).

Snip from CNET's report on the lawsuit:


Cisco said in the complaint that Apple had attempted to get rights to the iPhone name several times, but after Cisco refused, the company created a front company to try to acquire the rights another way, according to the lawsuit (click for PDF).



Mark Chandler, senior vice president and general counsel at Cisco, said in an interview that the companies were close to finalizing a deal Monday night that would have allowed both Cisco and Apple to use the iPhone name. One aspect of the agreement called for some sort of technical interoperability between Cisco's Linksys Internet telephony products and Apple's cell phone. Chandler said the hope was that by making the products interoperable, it would help alleviate confusion among customers, who would likely be target consumers for both products.



The companies left the negotiating table at 8 p.m. Monday with only a few points left to negotiate, Chandler said. Then on Tuesday, Apple CEO Steve Jobs took the stage at the Macworld Expo and, amid much fanfare, unveiled the new 'iPhone.'
Link
to CNET story.
The Trademark Blog
says
:
There's a U.S. application filed here in September, claiming March 2006 priority based on a Trinidad and Tobago application, in the name of Ocean Telecom Services. Cisco alleges that this is a front company for Apple.
Snip from
Wall Street Journal
account:
Apple spokesman Steve Dowling called the Cisco lawsuit 'silly,' adding there are several companies using the term iPhone for VOIP products, and Cisco's trademark is 'tenuous at best.'

'We're the first company to ever use the iPhone name for a cellphone,' he said. 'If Cisco wants to challenge us on it, we're very confident we'll prevail.'

WSJ (paid subscribers only) article
here
. Gizmodo's Brian Lam
did a hands-on demo
, and the host of
NPR 'Day to Day'
interviewed him about it here:
Link to audio
. And
link
to Apple/Cingular press release announcing the product launch.


Internet wagering site Bodog has posted odds on the lawsuit:


Will Cisco win their lawsuit against Apple Inc. over the 'iPhone' trademark? Yes is the slight favorite with odds of 14/19 (-135), while No is only slightly behind with at 19/20 (-105).

Will Apple Inc. be forced to change the name of the iPhone due to Cisco's trademark? No is the overwhelming favorite in this case, with odds of 1/9 (-900), while Yes is the highly unlikely underdog at 5/1 (+500).

Link
.

Also announced this week, Microsoft's reply? The ZunePhone: Link to ad. 'In 2006 they welcomed you to the social. In 2007 be prepared to accept a social call.' Besides, as one commenter wrote, who needs Apple's shitty little touchscreen when you can have a full-size QWERTY keyboard? (Thanks, dogrodeo!)
Reader comment: webmonkee says Wayback reveals Cisco wasn't listing iPhone in their trademarks until two months ago:




If you peruse this official listing from Cisco on archive.org's Wayback Machine, you'll notice something missing. iPhone. But if you go to their Cisco's site now, it has magically appeared in their list.

Josh
says,
The PVP web comic doesn't appear to be the originator of the 'Jesus phone' phrase you mentioned in your iPhone post, but yesterday's comic was funny either way: Link.

Pete says,
uncyclopedia has a good article on the Zune phone, or the 'Z-Phone'. (disclaimer: uncyclopedia is completely fake. jsyk. in case you didn't know.) Here's the prototype.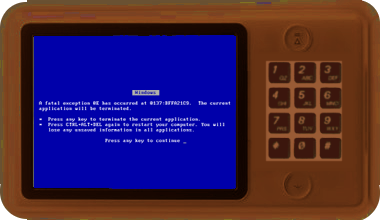 "
(Via Boing Boing.)